11 August 2005

Looks like I'm on a monthly schedule now. We'll see if I can keep this up.
Last month I was in San Diego hanging out with Eric, Ryan, and Joe. We made some jam strips. Check 'em out.
Also! Say hi to Brendan.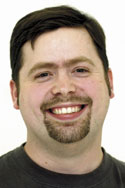 He makes an appearance this month as an annoying customer! You can, too - check out the donation incentives.

Other webcomics I regularly visit: